LBank Exchange, a worldwide platform for trading digital assets, added PEPEAI (PEPEAI) to its listings on May 12, 2023. This means that all users of LBank Exchange can now trade the PEPEAI/USDT pair.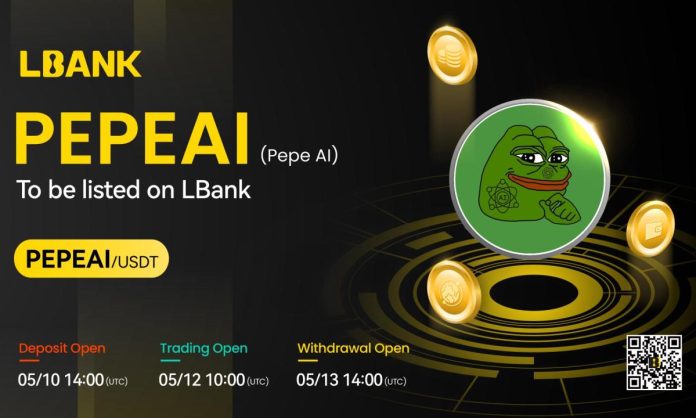 Introducing PEPEAI:
LBank Exchange is excited to share the news of the upcoming listing of PEPEAI (PEPEAI), a creative cryptocurrency token that has gained popularity in the crypto community, drawing inspiration from the well-known Pepe the Frog meme.
PEPEAI brings together the realms of artificial intelligence (AI) and memes in a unique way. It is an exciting project that aims to use the power of memes and AI to propel people to new heights and achievements. The goal is to reach for the stars at an incredible speed, combining fun and innovation along the way.
About PEPEAI Token:
The majority, which is 93.1%, of the PEPEAI tokens were added to the liquidity pool. Additionally, the LP tokens were burned, and the contract was renounced to ensure transparency and security. The remaining 6.9% of the token supply is held in a multi-signature wallet, designated for future use in centralized exchange listings, bridges, and liquidity pools.
PEPEAI, which is built on the ERC-20 standard, has a total supply of 420.69 trillion tokens (420,690,000,000,000). It was listed on LBank Exchange at 10:00 UTC on May 12, 2023. Investors who are interested in PEPEAI can now conveniently buy and sell it on LBank Exchange. This listing on LBank Exchange will contribute to the growth of PEPEAI's business and attract more attention in the market.
Learn More about PEPEAI Token:
Official Website: https://pepeai.io/
Telegram: https://t.me/pepeaicoin
Reddit: https://www.reddit.com/user/Pepeaicoin
Twitter: https://twitter.com/pepeaicoin
Instagram: https://www.instagram.com/pepeaicoin/
Medium: https://medium.com/@PepeAIcoin
About LBank:
LBank is a well-known cryptocurrency exchange that started operating in 2015. It provides various financial services, including specialized financial derivatives, professional asset management, and secure cryptocurrency trading options for its users. With a user base of over 9 million people from more than 210 regions worldwide, LBank is a growing and innovative platform. It focuses on safeguarding users' funds and aims to play a part in the widespread adoption of cryptocurrencies on a global scale.
Important Note: Cryptosheadlines does not support or take responsibility for the content, accuracy, quality, advertising, products, or other materials on this page. It is important for readers to conduct their own research before making any decisions regarding cryptocurrencies. Cryptosheadlines is not directly or indirectly responsible for any harm or loss that may arise from the use of or reliance on any content, products, or services mentioned here.