Nansen's latest monthly report shows that BNB Chain continues to be the most active blockchain in terms of user activity.
Blockchain research firm Nansen reported that the BNB Chain had 10.9 million active wallet addresses in April.
Nansen's data revealed that while BNB Chain had the most active network users in April, its user count decreased by approximately 11% compared to the previous month.
Although the number of active wallet addresses on the BNB Chain decreased by 11% in April, it remained twice as high as the next most active network, Solana (SOL), according to data from Nansen.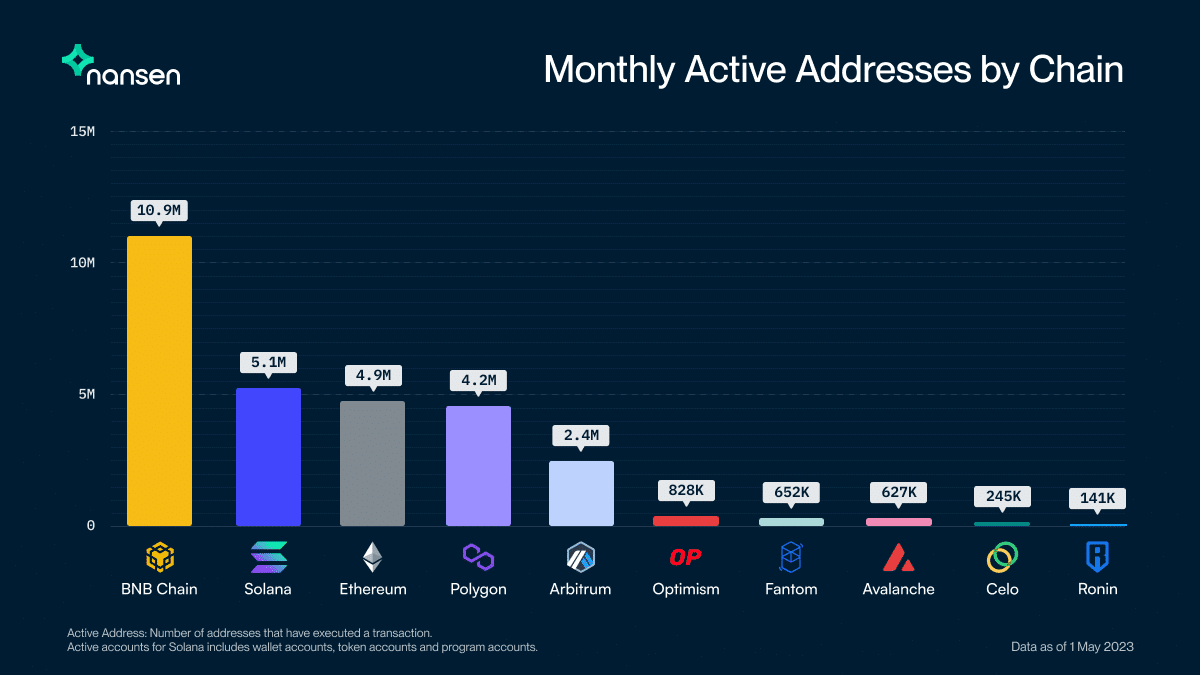 Image Source "crypto.news"
According to Nansen's latest report, Solana had a total of approximately 5.1 million active users when combining its wallet, token, and program accounts. This number was about 200,000 more than Ethereum, which ranked third with 4.9 million active addresses.
According to Nansen's data, Polygon had over 4.2 million wallet addresses making transactions in April, while Arbitrum had 2.4 million active users.
Nansen's data indicates that the increase in user activity on BNB Chain was mainly driven by Polyhedra, LayerZero, and Stargate Finance, which collectively saw a 300% surge in users on the network.
Solana's high address activity in April was mainly due to NFT project Mad Lads, STEPN, and the Raydium Protocol, according to Nansen.
During April, the Pepe (PEPE) meme coin community generated the highest number of on-chain transactions on Ethereum, contributing to the blockchain's 4.9 million operational addresses. The value of PEPE has significantly risen since its launch in mid-April, and it has been a popular topic on social media.
Activity "BUSD" at a two-year low
Although BNB Chain remains highly active, one of Changpeng Zhao's projects, the Binance USD (BUSD) stablecoin, has experienced a sharp decrease in traffic due to regulatory scrutiny.
Glassnode reports that BUSD's usage has fallen to its lowest level in two years, with fewer addresses sending and receiving the Binance-branded stablecoin.
📉 $BUSD Number of Sending Addresses (7d MA) just reached a 2-year low of 23.179

Previous 2-year low of 23.190 was observed on 02 May 2023

View metric:https://t.co/dTIgPM1KLY pic.twitter.com/4IyGCCUsz5

— glassnode alerts (@glassnodealerts) May 3, 2023
Since Paxos, the issuer of Binance-branded stablecoin Binance USD (BUSD), received a Wells notice from the U.S. Securities and Exchange Commission (SEC) in February, the BUSD activity has been declining.
When Binance USD (BUSD) was listed as an unregistered security by regulators, Binance exchanged around $1 billion worth of BUSD from its Industry Recovery Initiative fund for bitcoin (BTC), ETH, and BNB.
Binance removed some BUSD pairs, including perpetual contracts for STEPN, Near Protocol (NEAR), and Avalanche from its exchange.