According to a cryptocurrency trader, the prices of Ethereum (ETH) are expected to decrease or experience a slowdown in the coming days. This prediction follows the findings of LookOnChain, an on-chain monitoring tool, which discovered that an increasing number of ETH holders are transferring their coins to centralized cryptocurrency exchanges such as Binance and Kraken.
Ethereum Prices Stabilize or Enter Consolidation Phase:
Currently, the prices of Ethereum (ETH) are in a consolidation phase, showing reaction points in the range of $1,800 to $2,015 based on the price movements observed over the past two weeks.
#Ethereum | On-chain data shows a significant spike in active $ETH deposits to centralized #crypto exchanges, which may signal increased short-term sell pressure. pic.twitter.com/ha6GrDkyAJ

— Ali (@ali_charts) May 6, 2023
Based on information from CoinMarketCap, Ethereum (ETH) has experienced a 1.8% decrease in the past 24 hours and is currently trading at $1,908 as of the current time.
The altcoin leader has maintained a relatively stable weekly performance compared to Bitcoin (BTC), as a result of the recent underwhelming performances in the past few days.
Volatility in Ethereum is decreasing, as evidenced by the convergence of Bollinger Bands, a technical indicator used to measure volatility, according to observations on the daily chart.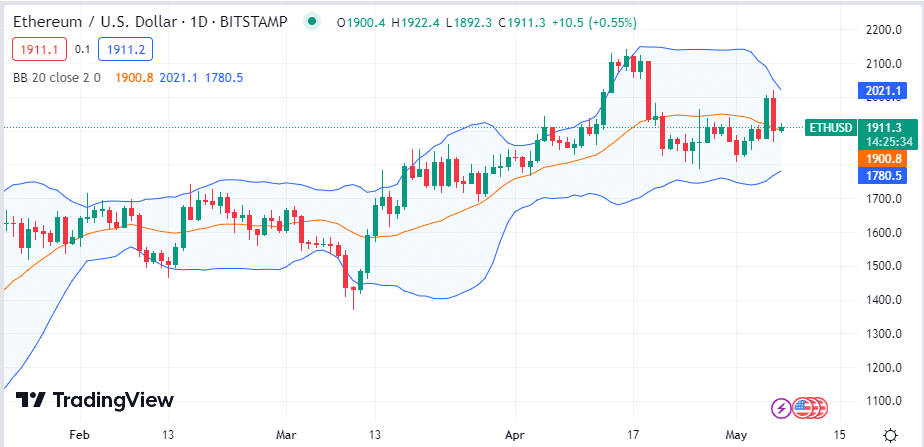 Image source: "crypto.news"
Ethereum Transfers, Increasing Fees, and the PEPE Craze:
In the previous week, Vitalik Buterin, one of the co-founders of Ethereum, made a transfer of approximately $500,000 worth of Ethereum. Shortly after, the Ethereum Foundation, a group responsible for developing the smart contract platform, also moved coins valued at $30 million.
After vitalik.eth transferred 200 $ETH($396K) to #Kraken, ETH Foundation also transferred 15,000 $ETH($29.7M) to #Kraken.https://t.co/FPVeH3Z8sJhttps://t.co/AHALnpKtxd pic.twitter.com/iLIHghJUIX

— Lookonchain (@lookonchain) May 6, 2023
Usually, when coins are transferred to centralized exchanges, it suggests a potential liquidation process. The impact on Ethereum (ETH) prices in the upcoming weeks or months, resulting from holders selling off their coins, is yet to be determined.
The increasing number of ETH transfers to exchanges aligns with the simultaneous rise in gas fees. This occurrence can be linked to the ongoing trend of meme coins. The fear of missing out (FOMO) on the pepe coin (PEPE) is primarily responsible for driving up the gas fees.
Despite the elevated gas fees, more coins are being burned as a result of the implementation of the EIP-1559 upgrade. Over time, this will transform Ethereum (ETH) into a deflationary asset.
24hr $ETH burn record SMASHED

10,300 ETH burnt and rising pic.twitter.com/9d6eJSnpe3

— DavidHoffman.eth 🛡️🦇🔊 🏴 (@TrustlessState) May 5, 2023