Over the past three weeks, the cryptocurrency market has experienced a significant decline, with its global market capitalization decreasing by approximately $145 billion. Shiba Inu (SHIB), which is the second-largest meme coin, has not provided a secure and stable investment for its holders.
In the past 30 days, the price of SHIB has consistently declined along with the overall global crypto market capitalization. According to data from CoinMarketCap (CMC), the market cap dropped from approximately $1.28 trillion to around $1.35 trillion at the time of writing.
Furthermore, at the beginning of the month, Shiba Inu (SHIB) was valued at $0.00001 with a trading volume of almost $130 million within 24 hours. Following a period of consolidation for six days, SHIB's price continued to decline, and its burn rate decreased.
The meme coin, Shiba Inu, has experienced a decrease of approximately 0.1% in the past 24 hours and is currently trading at $0.0000087, which is the lowest level it has reached in the past five months since early January. Despite these continuous drops in value, Shiba Inu remains the 15th-largest cryptocurrency with a market capitalization of $5.16 billion.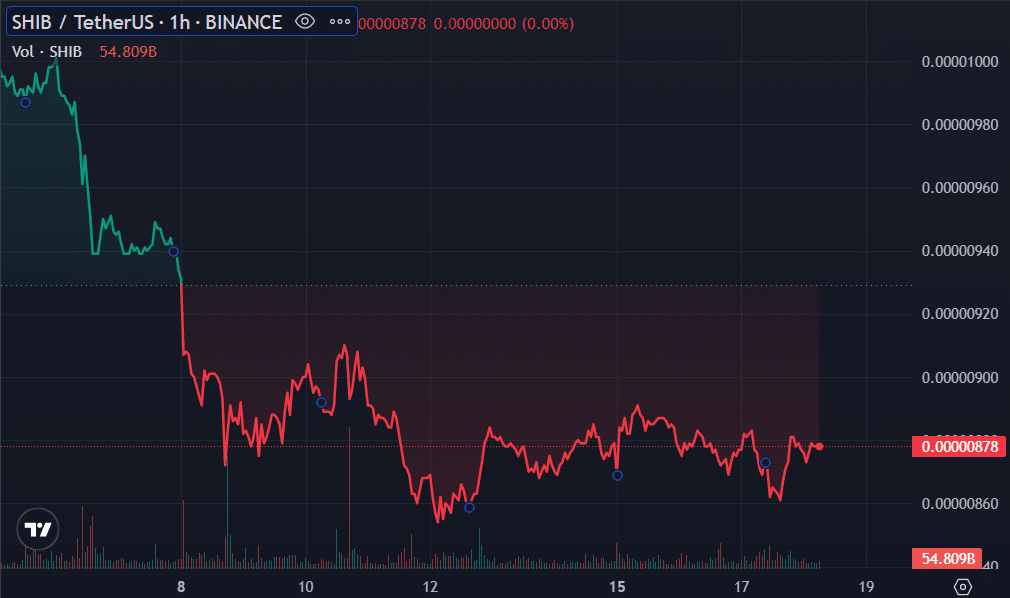 SHIB price – May 18 | Source: Trading View
Additionally, as the price of SHIB declined, the burn rate of the token also dropped by 9%. In the past 24 hours, only 1.8 million tokens, equivalent to approximately $15, were transferred to inactive wallets. According to SHIB BURN data, the most recent notable burn transaction involving shiba inu was on May 15, where 3.01 billion coins, valued at around $27,000, were burned.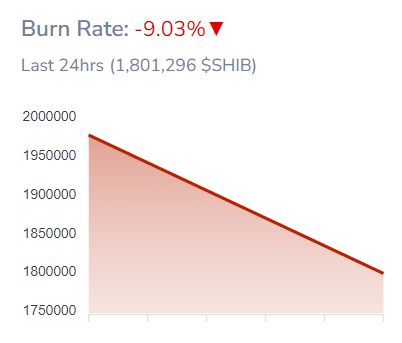 SHIB burn rate – May 18 | Source: SHIB BURN
Despite the decrease in price and burn rate, SHIB remains the most traded token among the top 100 Ethereum (ETH) whales, according to WhaleStats data. The data reveals that these prominent ETH whales have collectively traded 3.13 trillion SHIB tokens, with an average value of over $27.5 million.
This information is for general knowledge only and should not be considered as advice for investing or making financial decisions.